2010 Report of the
Harbormaster/
Natural Resources Department
In the face of an ailing economy, Harwich has done well keeping its berths and mooring areas full and operating at capacity, its boat ramps accessible and available, and its beaches meticulously maintained. The word has been out for a long time that if you have a boat, Harwich is the place to be. We owe this success to the strong support of a community that values the importance of maintaining its harbors and beaches.
Allen Harbor Basin Project
The town has moved through the planning stages of a project to dredge Allen Harbor to enhance boating, maintain ecological balance, and sustain property values and commerce within the surrounding community. Of great importance is the DEP approval of a beneficial use determination (BUD) permit, which will allow for the de-watered dredge spoil to be transported to the town landfill. Without the BUD, we have few options for dealing with dredge spoil disposal, other than transporting it to a Bourne landfill, which would add $1 million to project costs. Nantucket Sound is now a marine sanctuary and dredge spoil cannot be placed there any longer. The nearest offshore dredge spoil sites are off Rhode Island, 115 miles away, or outside Boston Harbor. The engineer's advice is it is cost prohibitive to ship spoils to those locations.
What is the need for dredging and what are the benefits one can expect from this maintenance project? Dredging involves the removal of sediment from the harbor to deepen it. There are two types of dredging: improvement and maintenance. Improvement dredging for Allen Harbor was last done in 1926 when the town removed the marsh and widened and deepened the opening to the ocean to create Allen Harbor. Maintenance dredging ensures ongoing adequate depth to enable safe and uninterrupted passage of boats. Allen Harbor Yacht Club last performed maintenance dredging of its dock area in 1987.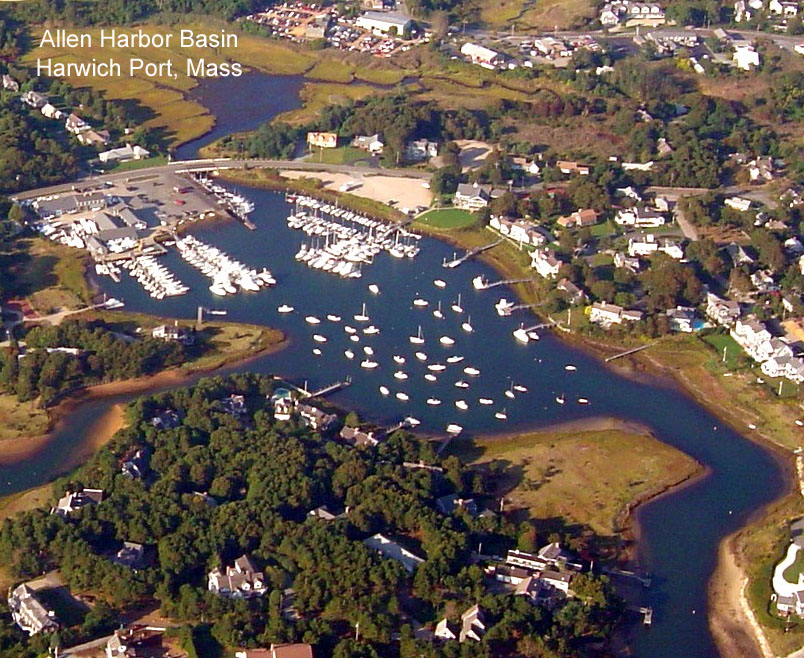 Dredge material will be sent ashore where the sludge will be reduced from 40,000 to 26,000 cubic yards of dry material using de-watering presses. The spoil can then be transported to the former landfill. The plan is to conduct the dredging over two years, 2012 and 2013 from September to January 15th, each year. The process will require closing of the Allen Harbor boat ramp and parking lot, and Allen Harbor Marine Service will have to store boats elsewhere during that time.
The obvious advantage of dredging any harbor is creating the depth necessary for the safe passage of boats throughout the harbor waters at all tides. A number of boat slips within Allen Harbor are currently tide-dependent or no longer able to accommodate the size of boat intended, making the need for dredging an immediate practical concern. The beauty and ecological health of the harbor will significantly improve as a result of dredging. Presently, boat propellers operating at low tide disturb and re-suspend silt and sediment from the harbor floor, creating a water column clouded with decayed algae and other "muck." Dredging would have an obvious impact by diminishing the up-kick of this source of waste, restoring the water to its crystal clear beauty almost immediately.
Most of the concern, and money, has been focused on the bad effects of excess nitrogen in local bays, salt ponds, and harbors because that's where nearly everything we put into our groundwater ends up. However, dredging can improve tidal flush, the water exchange necessary to maintain adequate oxygen supply to support flora, fauna, and sea life within the harbor including reducing the opportunity of an algae bloom which is triggered by the concentration and ratio of nitrogen vs. phosphorous. Officials estimate the effort to clean up high levels of nitrogen from the Cape's marine waters, including sewers and new wastewater treatment plants, will cost between $4 billion and $8 billion.
Dredging Cost
Two pieces of legislation are required to move the project forward, a betterment program allowing the town to work with the private property owners for their share of the payment and creating provisions in state law allowing towns to borrow for dredging projects. An article for the dredge project was postponed indefinitely as the legislative mechanisms have not been put in place to allow for borrowing for the dredge project. This will reappear in the 2011 Town Meeting. The cost of this project is $3.5 million, shared by the town and private abutters, including Allen Harbor Yacht Club (estimated $623,000), Allen Harbor Marine Service ($434,000) and seven property owners with docks.

The economy and the property values of Harwich and those on the harbor depend on the health and maintenance of the harbor to sustain the beauty, function, and commerce it provides. We all gain from a dredging project that preserves the health of the harbor and spectacular ocean views. Our townspeople deserve yet another place to launch and fish. Dredging is an investment in the Harwich community.
State Grant funds Pump-out Boat
We received a state Clean Vessel Act grant to buy a new boat from Marine Boat Builders Co. of Bristol, R.I. for $54,698. Our twelve year old vessel was taken in trade. The new boat at 23 feet is longer and wider than the 12 year old vessel and of course more stable for the task with added features, including a raised bow to make it drier and more usable in rougher waters and a larger holding tank (420 gallons), and a more environmentally sensitive 150 horsepower E-Tec Evinrude outboard. The effluent pump is electric and has a higher volume making pump-outs faster, while the old boat was gas powered and produced fumes.
The harbors of Harwich and the surrounding waters have been designated as Federal "No Discharge Areas" since 1998. This means neither treated or untreated effluent can be disposed of through flushing or discharge. The pumpout boats are used to take care of vessels in slips and located on moorings. Boat owners can call (508-430-7532) for an appointment. Shoreside stations are located in Saquatucket Harbor, at the Harwich Port Boat Yard in Wychmere Harbor and at Allen Harbor Yacht Club and Allen Harbor Marine Service. There is also a pump-out boat operating from Round Cove servicing vessels in Pleasant Bay which received the designation of a NDA only this year. Every bit helps with water quality issues as well as preserving shellfish grounds.
Bulkhead Repairs
A report in 2009, titled Harbors & Marine Facilities Analysis Report prioritized recommendations for repairs for construction/rehabilitation of our waterfront, repairs were done by sheathing the down low face of the Allen Harbor bulkhead (below the water) by Marine Tech of  South Yarmouth, MA for $12,000. Articles for replacing the Allen Harbor float system, the Wixon dock and replacing comfort stations at two public landings were postponed.
Waterway User Fee and Pond Mooring Charges
In order to bolster receipts and keep the Harwich Waterways operating in the black, the Board of Selectmen voted in two new fees as part of the marine fee schedule. The Waterways User Fee ($125) is applied against any vessel greater than 16' LOA that occupies a private dock or pier and uses the waterways. The second fee called a Pond Mooring Fee ($50) is now being applied against any boat on a mooring or a dock in any freshwater lake. These receipts go directly into the municipal waterways improvement fund.
The user fee was challenged by several boaters as being illegal. This argument generated a legal opinion from the Town Counsel John Giorgio who ruled the Waterways User Fee satisfies all three prongs of the Emerson College legal test. The complete legal opinion letter can be read on the Harbormasters Office website.
<![if !supportLineBreakNewLine]>
<![endif]>
HARWICH HARBOR RECEIPTS FY10 vs FY09

TOTAL

TOTAL

SOURCE

FY10

FY09

Saquatucket Dockage

540,491

19.81%

451,112

Visitor Dockage

150,670

27.69%

117,995

Mooring Permit Fee   WIF

74,099

14.66%

64,625

Allen Town Dock

23,333

3.07%

22,637

Ramp Fee Collected

22,612

0.22%

22,562

Wychmere Town Pier

22,411

9.52%

20,462

Electric Use

21,878

13.90%

19,208

Offload Permit Fee

17,035

35.23%

12,598

List Waiting Fee

14,108

-13.47%

16,304

Waterways User Fee  WIF

12,750

Shellfish Permit

8,671

26.58%

6,850

Fuel Commission

7,824

3.21%

7,581

Ice Receipts

1,634

-5.33%

1,726

MSA Fee

800

-11.11%

900

Restaurant Tie-up

365

-10.76%

409

Fish Weir Permit

50

0.00%

50

Allen Parking Lot Rental

13,689

13,689

Mooring Drop/Haul/Insp.

20

-90.00%

200

Totals Receipts

$932,438

20.06%

$765,218

Contribution to Waterways User Fund

$86,849

34.39%

$64,625
The Capital Outlay Committee has recommended $3,270,000 including $2 million to dredge Saquatucket Harbor basin, $1.2 million to reconstruct Allen Harbor outer jetty and $70,000 to dredge Allen Harbor Channel. The committee has supported funding the $3.8 million Allen Harbor dredge project in FY12. The committee has also identified $700,000 for the purchase of the Downey property for harbor associated use next year.
Storm Warnings
Hurricane Earle, billed as a potentially destructive Category 4 storm on Thursday, September 2nd quickly weakened and veered harmlessly east of the Lower Cape with the highest wind gust registering 27 mph at our office and there were no storm surge problems in the harbors. The only other noteworthy event was a report by assistant harbormaster Graham McCabe who encountered flooding along Lower County Road which forced him to detour back onto Route 28 while going to Allen Harbor to check conditions there. Hurricane Igor followed on September 21st passing somewhat nearer the Cape with no damage to report. These hurricanes should not leave Cape Codders with a false sense of security as preparation for any major storm is important.
Stimulus Dollars for Water Restoration Projects
A total of $6.5 million was made available to Cape communities through the American Recovery and Reinvestment Act. This department filed eight grant applications on behalf of the Town with three surface water projects receiving funding from ARRA for a total of $680,000. These were granted through the federal Department of Agriculture's Natural Resources Conservation Service and designed to improve coastal water quality. The Town is responsible for a 25 percent match of the cost or $170,000 for in-kind services provided by the Highway Department. The federal government will buy the materials. Supplemental funds will likely be required by the Town in the next special town meeting

At Red River a salt marsh restoration scheme in the marsh would happen by replacing small culverts under Uncle Vennie's Road and Old Wharf and Deep Hole roads where presently the marshes are not flushing properly and the water backs up, stagnates and odors build up there. The plan is to install larger box culverts to allow greater tidal range and flushing. The state DMF has contributed to the engineering and design of the project.

The second project is the removal of the StormTreat System that was installed in the parking lot at the Wychmere Town Pier more than a decade ago designed to treat road runoff along Harbor Road. The system never worked right due to tidal influence. A study by the CZM, which funded the installation, confirmed the system is not working. The plan is to take out that system and provide new drainage containment. This should return several lost parking spaces at the Town Pier. This project has been in the town's capital plan.

The third project will provide proper drainage along the lower road that runs in front of the harbormaster's office at Saquatucket Harbor. When the east and west parking lots were resurfaced a few years ago, proper drainage containment was installed, but there are four drains along the lower road that discharge directly into the harbor that do not meet today's standards.
 
USCG Rescue 21 System
Late one August night, having an accurate position provided by the Coast Guard's new directional radio system, the Harbormaster was able to rescue an errant boat on Nantucket Sound. The frantic party onboard calling on a cellphone to Harwich Fire Department thought they were somewhere off Allen Harbor. After transmitting only briefly on their marine radio VHF channel 16, the Coast Guard at Woods Hole was able to triangulate the signal and the stranded vessel position using the latest piece of equipment called the Rescue 21 System. As it turned out, these boaters were off Bass River, not Allen Harbor, and harbormasters Tom Leach and Rich King were able to then quickly locate them and guide them to safety of the harbor.


Rescue 21 was again called upon to save lives in a marine disaster in October involving a Harwich based fishing vessel the JOANNE H which caught fire on the fishing grounds about 13 miles east of Chatham. Three Harwich fishermen aboard narrowly escaped to the safety of a life raft through the smoke and flames before they were able to find and don survival suits and only begin a May Day call. The partial SOS call was picked up by the aforementioned Rescue 21 System which immediately deduced an accurate position to lead Coast Guard rescuers to the 48-foot vessel which eventually burned to the waterline and sank.
In one of its greatest life saving moments since the famous Pendleton Rescue in 1951, the Chatham Coast Guard Station 27-foot utility boat from Stage Harbor rescued all 11 people from a burning yacht in Nantucket Sound just minutes before the boat was engulfed by flames late at night on July 30th. The captain and passengers, who were enjoying a warm evening boat ride from Wychmere Harbor on the 42 foot BRONZE MONKEY, were uninjured, though the boat burned to the waterline and sank.

In September, the owner of the BRONZE MONKEY, John Gregg, had the wreck salvaged and towed to Saquatucket Harbor where it sank again in the entrance channel. Early the next morning a auxiliary sloop collided with this wreck damaging the rudder and forcing the 37' sailboat, now not under command, to require assistance from the Harbormaster. The BRONZE MONKEY was eventually hauled out of the water at Saquatucket Harbor Bulkhead.
Harbors Task Force
A town appointed Harbor Task Force began defining land use and infrastructure needs adjacent to Saquatucket and Wychmere harbors to improve access to the harbors and enhance the local economy. Using a technical assistance from the Cape Cod Commission the task force is developing a plan for improvements that will include developing better access to the harbors from Harwich Center and Harwich Port expanding the economy and assisting the town in determining whether it should purchase the Downey property between Saquatucket Harbor and Route 28.

There are a number of suggestions on how the land could be used. The use of the 2.2-acre Downey land would improve traffic circulation, parking, and the potential for increased marina capacity, seasonal vendor use and Andrews River stream restoration. However, there are limiting factors, including wetlands that may be untouchable as 100-foot setbacks and 50-foot no-disturb zones that may be enforced.
<![if !supportLineBreakNewLine]>
<![endif]>
Channel Dredging
The Barnstable County dredge completed a 4,000-cubic-yard dredge project along the John P. Carney Trust property bulkhead at the head of the Saquatucket Harbor entrance channel. The private property owner properly funded the dredging at a cost of $29,000 through procedures outlined in the Town beach nourishment plan. The material along that bulkhead was pumped to the private beach on the property while sand from the berth was trucked to Red River by Highway Department. The removal of the sand along the bulkhead on the east side of the channel will help keep the passage clear.
A survey of the Saquatucket Harbor outer channel showed a satisfactory depth within the channel in 2010, however, shoaling is occurring within the limits of the channel and growing worse. Shoaling occurs quite possibly when there is a shift in prevailing winds with the change in seasons. The entrance channel is scheduled for maintenance in 2011. This will also be put out for bidding as private beach nourishment.
At Wychmere Harbor channel 1,100 cubic yards of sand were removed just south of the yacht club jetty and another section in the throat of the channel. This project had to be done by Jan. 15th, before when the permit Time-of-Year restrictions for inner harbors are in effect.  The third completed project which required an appeal from the TOY removed 6,000 cubic yards of material which was choking the entrance jetties at Allen Harbor provided sand at two private locations where residents had bid to have beaches restored. Karen Agnew of Hulse Point received 360 cubic yards and the Ayer Lane Homeowners Association received another 700 cubic yards. The remainder of the sand was pumped to public beaches at Atlantic Avenue, Wyndemere Bluff and Wah-Wah-Taysee Road.
The County dredge returned to Round Cove in early December to realign and bring the channel back to permit standards. After four years, this channel entrance was barely navigable for only the smallest boats at low tide as a huge sand bar had built up on the east side.  Wequassett Inn bid for and received 2,400 cubic yards of sand. Some sand was also added to the barrier beach and an additional 2,000 cu.yds. of sand was placed at Bay Road beach.
<![if !supportLineBreakNewLine]>
<![endif]>
Neighbors in the area of Beach Road have petitioned the town to have the town beach nourished and restored before erosion eliminates the public portion and it reverts to private property. Neighbors have been squabbling with abutters to the small beach for more than a decade about access rights there. Abutters on both sides of the town easement, a path leading to the beach, have sent letters to the town stating they do not want sand from a town dredge project placed on their private beaches. There is only a 30-foot-wide beach now and there is no way to pump sand without spilling it onto the private beaches. The easement path is also too narrow to get a front-end loader down to the beach to spread sand.
In order to address this situation without treading on land, we have applied for a state ocean disposal permit for Beach Road to Pleasant Road to place dredge materials below mean low water. The consulting engineer said placement of the material is well outside the eelgrass beds offshore and it will have no long-term impacts on marine organisms living in the sub tidal zone. Although this permit received an order of conditions, it is being withheld for now until issues surrounding clearance from a bay scallop resource near this area can be satisfactorily resolved.

New Boat Ramp
State Department of Fish and Game Commissioner Mary Griffin helped dedicate a new Public Access Board ramp at Saquatucket Harbor. Seventy-five percent of state funding for the project came from the federal government and includes provisions maximizing public access. The State Public Access Board paid for the remaining 25% of the bill. The long winter project was fraught with coffer dam issues during construction but C. White Marine, Inc. of Danvers completed the structure on time for the season. The ramp includes a new grooved concrete ramp designed to provide better vehicle traction. A new apron was added to reach nearly 15 feet into deeper water, and the ramp runs at a constant 15-degree angle making it easier for vehicles to negotiate. The new apron will eliminate the problem of prop wash when vessels are being loaded and offloaded, preventing the structure from eroding. The new ramp also provides plenty of deep water for use any time throughout the tide cycle. The deeper water allows deep draft vessels to use it at any time.

Shellfish Laboratory
The lab inspires our young citizens.  This was the 13th year of our summer aquaculture internship program.  The six week program, managed by Heinz Proft, enabled students, Madison Greiner, Caroline Hamilton, Grant Simmons, and teaching supervisor Jill Eastman to work closely with the Natural Resources Department to monitor and maintain the Shellfish nursery during its' busiest time.  The lab, open to the general public, received over 300 visitors this year, bringing our total to over 5,400 visitors in the past 13 years.  The shellfish from the lab were seeded in Herring River, Allen Harbor, Wychmere Harbor, Saquatucket Harbor, Pleasant Bay/Muddy Creek, and Round Cove. 
The Harwich Natural Resources Department received assistance on many projects from volunteers.  A great deal of thanks is extended to Bob Sarantis and John Reynders who spent yet another summer/fall tending to the needs of the shellfish lab.  Their help is truly appreciated.
Making the best of a bad situation, for the first time in six years we were able to seed lab grown shellfish into Oyster Creek, in Allen Harbor.  In the fall of 2009 a 12ft wide section in the middle of the creek was dredged in order to allow boats greater access through that section of the creek especially at low tide.  This dredging project had taken many years to come to fruition in part due to our opposition to dredging an historic shellfish area. During that time, we avoided "planting" clams which we new would be destroyed during the dredging there.
Mitigation on the part of the Oyster Creek Homeowners included reimbursing the Town for the cost of the shellfish removed and reseeding.  Through this mitigation, in addition to resources from our department, we were able to seed nearly 100,000 quahogs into Oyster Creek in October 2010.  The majority of   this seed was over 16mm in size.  It will take nearly two years for these quahogs to reach minimum thickness of one inch and become harvestable. 
Littlenecks and Oysters
Our yearly output from the lab decreased due in part to a significant reduction in Division of Marine Fisheries/County Seed support money, something that is not seen on the "cherry sheet". We cultivated 600,000 quahogs in the lab this year bringing our total to over 28 million quahog seed production in the lab since 1994.  The shellfish seed is purchased from Aquaculture Research Cooperation in Dennis.  The ARC hard clams, purchased directly are a bit larger (3-5mm) than the County Seed Grant Program (2-3mm), give us a jump start on the growing season. This boosts our overall average seed size, an average of 13mm, at transplant time in late October.  The survival rate for these quahogs in the lab was 97%.
Virginia oysters (crassostrea virginica) were once again grown in the shellfish lab (3-4mm).    The 45,000 oysters were obtained from ARC grown in our upwellers and eventually seeded into Wychmere harbor as well as few on the banks of Herring River.  This was our third year raising oysters and we are pleased to report a few folks have harvested some of the legal size oysters (3 inches) that have survived.  It is our plan to increase the number of oysters grown in the lab.
State regulations require the shellfish seed to be tested prior to sowing for Dermo, QPX, and an array of other harmful parasites.  Our seed was tested by Mirco Technologies Inc. in Richmond Maine and received a clean bill of health.
Ron Saunier – 10 years
Shellfish flats were patrolled by a highly motivated team of shellfish wardens who volunteer their free time in service to the Town.  Special recognition is given to Ron Saulnier since this year marked 10 years in this important role.  Jim Coyle and Dean Knight were also very generous with their time and energy.   The enforcement team meets weekly to schedule coverage times around low tide. This assistance provided by our volunteer corps makes the Natural Resources Department a more efficient, more productive group.  We thank all our volunteers for their effort.
2010 Shellfish Permits Sold
Resident Family 275       $5500
Non-Resident Family       30       $1800
Commercial                      6        $300
Seniors                         106        $636
One-Day Non-Resident   35        $700
TOTAL                        452      $8,936
Shellfish permit rates currently are:
Resident Family                         $20/year
Non-Resident Family                 $60/year
Commercial                              $50/year
Seniors (65+)                            $  6/year
One-Day Non Resident             $20/year
We ask permit holders to complete a shellfishing survey when obtaining their license at the Harbormaster's office.  Data compiled from this survey for 2009 which yielded more than 2500 full limits is as follows:
Avg. # days someone went shellfishing                     7.94 days
Avg. # buckets of quahogs taken per permit              4.08 (10qts)   
Avg. # buckets of oysters taken per permit          0.12 (10qts)
Avg. # buckets of soft-shells taken per permit     1.44 (10qts)
Avg. # buckets of scallops taken per permit         0.10 (10qts)
Note: When someone buys a permit we get the previous year's survey results.  The 2010 data will be available after everyone has purchased their 2011 license and will be included in the next year's town report.
Herring Run and Eel Ramp
The Herring Run remains closed due to the moratorium enacted by the DMF on the taking of herring anywhere in Massachusetts.  The moratorium on the taking of herring in Harwich has been extended through 2011. The state will review the conditions of herring runs across the commonwealth and decide what to do going forward.  The department, along with our herring warden volunteer(s), was pleased to see a few strong days at the run this past spring, but not many.
Kudos goes to the Harwich Conservation Trust for organizing the second annual herring count. Thirty volunteers scheduled over a two month period stationed themselves every daylight hour for ten minutes at the Hinckley Pond raceway to tabulate the fish count.  Over 5,000 fish were counted between April 1st and June 1st.  From these figures, the total run numbers were extrapolated to become an estimated 23,000 fish making up "the run" this year.
We were assisted by Americorps volunteers keeping the Herring River and Skinnequit brook clear of debris and blockages.  Many early spring days were spent cutting dead wood, removing brush, and clearing debris that would inhibit the migration of herring to their freshwater spawning sites.
The eel ramp, also know as the "Eelevator", located off Bank Street, also had it volunteer team counting eels that make their way into Grassy Pond through June. A small electric pump keeps an inclined ramp moist in order to assist the passage of eels from Cold Brook into the pond. More than 5,000 tiny eels were counted making their way up an artificial mesh raceway into the pond, significantly lower than in 2009 (25,000 eels). The impact of a low water level due to a lack of rain may be a contributing factor in the eel population. 
Harwich Water Quality Task Force
Local water quality monitoring continued in Saquatucket Harbor, Wychmere Harbor, Allen Harbor, Herring River, and 11 freshwater ponds.  Areas were sampled several times throughout the summer collecting reliable water quality for our database which includes nitrates, phosphates, chlorophyll, dissolved oxygen levels, and fecal coliform levels.  These results can be viewed online at www.hwqtf.com.  The website provides details about the program, contains interim reports and data from the sampling ponds and includes aerial photos, some of which illustrate algal blooms.
A project of this enormity cannot be completed without commitment of a hard working base of volunteers. The Harwich Water Quality Task Force members are: Ellen and Chris Geanacapoulos, Bob Smith and John Preston, Bill Otis, Chet Berg, Jane Chase, Kathleen Welch, Anne Hynes, Ralph and Jane Anderson, Jack Lohr, Peter DeBakker, Tony and Marian Piro, George Meyers, Patsy Lightbrown, Art Winterhaltler, Julie Gammon, Paul Erickson, Mary Ann Jones, Norma Spignese, Deborah Aylesworth, Joe Seidel, Bill Clary, Walter Gonet, Ron Bellengi, Jay Kennedy, Richard and Nancy Gifford, Chuck Winans, Stan Kocot, Danette and Jen Gonsalves Jim Brennan, Bill Myers, Ed McCarthy, Ray Sacramone, Connie Doherty, Bill Sliney, Mary and Bob Reynolds, Pete Watson, Terry Barry, Ted Janse, Mary Henry, Frank Sampson, Bob Sarantis, and Bob Goodwin.
Water data including temperature, salinity, dissolved oxygen, and turbidity were collected from Nantucket Sound onboard COMMANDER by the shellfish lab interns over five days this summer and was added to our 13 year database.
Pleasant Bay Alliance (PBA)
Yet another group of Harwich volunteers participated in an ongoing water quality sampling program as part of the four-town Pleasant Bay Resource Management Alliance.  The PBA reinstated a 3rd sampling station in Harwich which now includes Round Cove and two sites in Pleasant Bay.  Volunteers Tina Maloney, Walt McClean, Margaret and Rich Stenburg, George Cooper, Dave Bennett, and Al Williams were generous with their time and we thank them for their assistance.  The website for this program is www.pleasantbay.org.
Wastewater Management
There have been two years of delay in the Comprehensive Wastewater Management plan at the state level in producing data that will cost an additional $200,000 by the Harwich consultant, Camp Dresser & McKee, Inc, of Cambridge. The CWMP is part of the Massachusetts Estuaries Project. Voter funding and a capital exclusion vote on the annual election ballot must be approved to move forward. Needed information is the nitrogen loading numbers in several town harbors and Muddy Creek, upon which the total maximum daily loading calculations for nitrogen in the watersheds are determined under the MEP study.
The UMASS Dartmouth School of Marine Science and Technology was provided with updates on the status of baseline assessments. A revised baseline for Muddy Creek, Allen and Saquatucket Harbor watersheds has been received. Herring River, the largest river system on the Cape, covering 10,000 acres, is complex watershed because of the combination of salt and fresh water systems. Other work is being done to study nitrogen removal in Harwich Port through attenuation on the Bank Street bogs.
PBA continues to make progress on the hydrodynamic study of the Muddy Creek culvert interface under Head of the Bay Road. Modeling determines that enlarging the diameter of the present culvert to 24ft may bring significant advantages through increased tidal flushing.
Resident Frank Sampson, a retired environmental engineer, has volunteered his time and expertise for more than six years in this effort to bring the Town into compliance on managing its wastewater issues and as chairman of HWQTF. Last year, Heinz Proft's position as Assistant Natural Resources officer was reclassified as a new position Environmental Science Director in order to help Mr. Sampson who is determined that Harwich must succeed with its wastewater management plan.
Light Pollution By-Law
As the population has grown, so have our subdivisions, street networks, stores and shopping plazas. With these changes have come widespread outdoor lights, illuminating everything from intersections to flagpoles to car dealerships and churches. A huge number of these outdoor lights point skyward and are causing a collective glow lighting the atmosphere over Cape Cod considered as light pollution.
This change in the Cape's nightscape has effectively blotted out what used to be an unobstructed view of the stars and planets, something that was always a draw for most family members as one of the many redeeming qualities of our extended arm into the Atlantic.  The planning board and new town planner, David Spitz, working with the Harbormaster (an amateur astronomer), developed standards for outdoor lighting for all parcels except those containing one and two-family dwellings and other specified exemptions. A new bylaw was crafted and voted at town meeting. It passed the attorney general review and took effect in September. The purpose of the new outdoor lighting regulation is to "enhance public safety and welfare by providing for adequate and appropriate outdoor lighting, providing for lighting that will complement the character of the Town, reduce glare, minimize light trespass, and reduce the cost and waste of unnecessary energy consumption."
We urge that all residents adjust their outdoor lighting to send light downward where it will do the most good. Where security spotlighting is necessary, these should be on motion detector, timers, etc. so that they do not contribute to the light signature and work only when needed.
Waterfront Activities
All these events draw people to Harwich who spend money in restaurants and rent rooms and therefore have importance to the economy while enhancing the spectacle that is our waterfront.
Stone Horse Yacht Club hosted three regattas off Wychmere Harbor that have become major sailing events for the Cape. The 15th annual Optimist Dinghy regatta held July 12th has become a must sail for kids of all ages across the state on July 12th. 115 racers from more than 10 clubs participated in four divisions, sorted by age. A third of the fleet members were female. Two days later, an equally exciting event was the annual Laser race that drew a crowd of more than 50 competitors. Then on August 14th the Flying Scot NE District Championship was hosted in the Port.
By mid September, the first bluefin tuna were being landed and the season became a fair one with a fleet of 49 operators landing 238 fish, the largest weighing in at 738lbs dressed. This count exceeded the 2009 numbers by nearly 100 fish.
We thank our regular employees Michelle Morris and Tom Telesmanick, and our seasonal assistant harbormasters: Peter Sawyer, Matt O'Brien, Steve Bickerton, Frank Kunz, Jim Coyle, Rich King, and Graham McCabe for all their dedication and hard work. We also thank the Police, Fire, and Highway departments for all there support this year.