Harwich Harbormaster and Natural Resources Department Staff
Throw the lumber over, man!
Let your boat of life be light, packed with only what you need...
J.K.Jerome
Thomas E. Leach, Harbormaster/Natural Resources Director
Thomas E. Leach, BS Chemistry,Tufts University has served as Natural Resources Director/Harbormaster for 38 years. Tom says tobe a harbormaster you must be a jack of all trades and a people person. He is a manager/director, wharfinger, computer programer, General License Ham operator (KB1VAC), welder,splicer, diver, scientist, plumber, carpenter, and holds a captains license. Tom is also a graduate of the Massachusetts Harbormaster program at Mass Maritime Academy. Headmits that surrounding oneself with an outstanding staff has done a lot for making thetasks at hand achievable.When not working Tom enjoys competitive offshore and dinghy sailing,tennis,surfing the outer beach, astronomy, selenography, watercolor, learning more about lightships and cruising Pleasant Bay with Jackie inthe most versatile boat they have ever owned, a 13' Boston Whaler. Surfing has really become large for Tom. Costa Rica west coast is again on his radar screen.

In 1975, Tom fell overboard from an offshore lobster boat at Lydonia Canyon, 150 miles southeast of Harwich Port. He made his mind up then that being a harbormaster has some good consequences.He is past president of the Cape & Islands Harbormasters Association. (TuftsLife.com TuftsDaily.com Tufts E-News TAAP) Tom is also editor of A Barkhamsted Diary.


---
Heinz M. Proft, Asst. Harbormaster / Natural Resources Officer
Heinz M. Proft, Assistant Harbormaster/Natural Resources Officer, Masters degree inMarine Fisheries from The College of William and Mary, Virginia Institute of Marine Science.Always on the go, Heinz is responsible for running the Town's Shellfish Lab (3.5 millionclams this summer), enforcing shellfish regulations, monitoring the alewife run, andassisting in the daily marina operations. Heinz also coordinates volunteers in the Town pond and saltwater monitoring program. He also works closely with Harwich highschool science students in the summer who help out in the Shellfish lab and developindependent research projects. He is a graduate of the Massachusetts Shellfish Officers Training Program. Heinz's past experiences include working at the BostonUniversity Marine Program in Woods Hole, The Caribbean Marine Research Center in VeroBeach, Florida, and working aboard a Korean fish processor in the Bering Sea obtaining datafor the National Marine Fisheries Service.

During his free time, Heinz can be found playing soccer, basketball, tennis,and the harmonica. Not only an accomplished Scuba diver, he is also a private pilot and has now joined ranks as a member of the Civil Air Patrol, the auxiliary wing of the United States Air Force. He also volunteers time as a pilot for Angel Flight, a non-proft organization serving the community by providing FREE air transportation on private aircraft to financially and medically needy people who cannot access or afford regular commercial transportation to health care.


*Heinz can't believe he has spent ten years already at the Harbor! Where did time go??

---
Michelle Morris, Principal Clerk
Michelle Morris was hired in October 2004 after an exhaustive search for the right person. She assumed her new role as our first ever full-time Principal Clerk in the Harbormasters Office with authority. Her solid background in banking, long term experience as a chief loan officer and congenial personality made her the top pick for the job in helping organize all the facets of operating a busy marina and year-round port.
A Mattaposiett native, she owns a motorboat with her electrical contractor husband Scott and they share a home in East Harwich. Besides Scott, Michelle loves Cape Cod, her dogs and the Outer Beach and has been very active in the MBBA (Mass Beach Buggy Association) for years.
This August, Michelle and Scott had their first baby Peyton. Hoorah!
---
Tom Telesmanick, Dockmaster
Tom Telesmanick began work at Saquatucket Harbor as our new dockhand/trouble shooter in the Harbor Department and dockamster. He was hired for his many many skills as a former building contractor and handyman but there is a lot more to Telesmanick's interesting story than meets the eye and not one that you would say "don't give up your day job". Tom holds a music degree from prestigious Berklee College of Music

The act of practicing, playing and performing music has been a part of Tom's life for as long as he can remember and over the years, he's parlayed his talent of the accordion – a gift he received and began to master at the tender age of five – along with that of the piano, keyboard, guitar, and even ukulele, to provide others with a soundtrack to life. A long-time Harwich resident, Telesmanick has taken his sometimes solo, sometimes ensemble show from Toronto to Florida and worked countless weddings, parties, dances, fundraisers, and funerals. He was also a key member of the Chatham-based children's band Rainbow Company.

These days,Tom stays closer to home, and can often be found performing in restaurants and bars, from Falmouth's sea-side bistro Flying Bridge to renown resort Chatham Bars Inn, among various other venues. Oh did we forget to mention, Tom is also an avid fisherman and enjoys chasing the bass and blues around Monomoy and further in his 22' Roballo.

You can see Dockmaster Tom in action as the "Dock Dockda", as he develops ideas and scenarios to make often unique repairs on our wharves and piers as filmed in the Ye Olde Dock Show.
---
Jake Sklarew, Seasonal Assistant Harbormaster
Peter Sawyer, Seasonal Assistant Harbormaster
Pete Sawyer lives year-round in the Port and is a member of the Harwich High Class of 2008 and Captain of the sailing team. Pete was hired by Tom Leach to fill a gap in our staff, another person with an attituted about attention to detail.

Pete learned to sail and race Opti's and 420's at Wychmere Harbor. He learned about how to operate powerboats from the ground up and is very, very, familiar with our local waters. Last year he took sail kiting lessons and is already an accomplished kiter, an awesome sport that combines the skill of wakeboarding and understanding the physics of sailing. Pete looks forward to his freshmen year at Florida Institute of Technology and he will be able to hone kiting skills year-round.

FYI Harwich High Rough Rider sailors went 11-3 on their 2008 season and won the Cape & Islands Championship in June.

---
---
Jim Coyle, Assistant Harbormaster/Wharfinger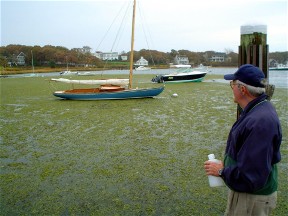 Jim Coyle, part-time assistant harbormaster is onboard again this season as wharfinger keeping a watchful eye on the bluefin tuna fleet as they land their catch at our landings. A Navy veteran, Jim spent a carreer as one of those few that can make companies run efficiently and worked in the precision bearing industry in the US and Great Britain. Jim enjoys golf and boating and is an accomplished bass fisherman on Pleasant Bay.He also finds time to serve as a volunteer shellfish warden patroling flats and answering questions like 'can I shellfish with my eight grandchildren and 16 house guests on my senior citizen permit?' What time is low tide?
---
Frank Kunz, Assistant Harbormaster/Wharfinger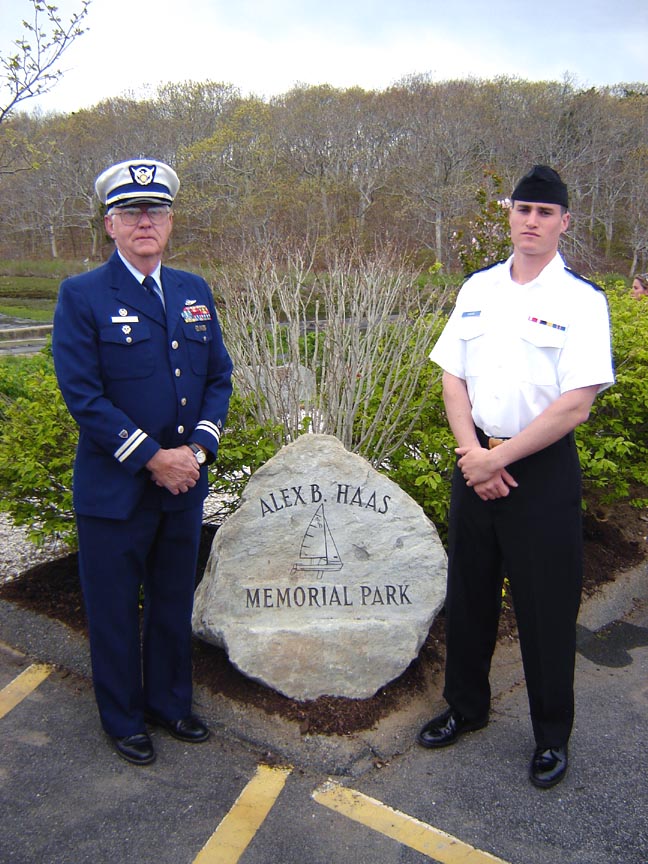 Frank Kunz, part-time assistant harbormaster is onboard again this season as wharfinger keeping a watchful eye on the bluefin tuna fleet as they land their catch at our landings. A Navy veteran, Frank also emjoys a very active live as a boarding officer inspector for commercial fishing vessels under the USCG Auxiliary. His job there as an USCGAux Officer includes everything from search and rescue to hunting down open microphones on the marine frequency.
---