Master and COMMANDER
If rightly made, a boat would be a sort of amphibious animal,
a creature of two elements, related by one-half
its structure to some swift and shapely fish, and by the other
to some strong-winged and graceful bird.
Henry David Thoreau

The Harbormaster Vessel"COMMANDER" is the mainstay of the department fleet.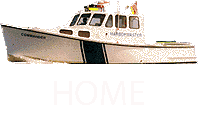 COMMANDER
Commander Power Curve 2012 (Cummins)
Current Boat Insurance Premiums (pdf)
In an effort to upgrade the boats available within the Harbormasters Office, two vessels were secured at no cost to the taxpayer. In 1997, the Town was offered and accepted a gift of a 1990 Duffy & Duffy 35' fiberglass fishing vessel from the NMFS buyback program. This program authorized by the Sustainable Fisheries Act enacted provisions authorizing the Commerce Department to both carry out and finance fishing capacity reduction. This vessel, renamed COMMANDER, has become the working platform for the Department and will serve varied uses including: harbor patrol; marine rescue; mooring and channel marker maintenance, and in connection with the Fire Department: medical emergency and Dive Team. Raytheon Corporation donated a 20 mile radar for this first vessel ever to be turned over to a community through the NMFS program.
COMMANDER, due of its previous use as an offshore groundfishing vessel, provides heated all weather protection for the first time and may have made a difference in the outcome of a winter airplane crash off Wychmere Harbor last year. In December a Harwich fishermen's life was saved by the Chatham Harbormaster boat after falling overboard off Chatham and there is know doubt that any Harbormaster with a substantial vessel will someday save a life and compliments Coast Guard resources close to home.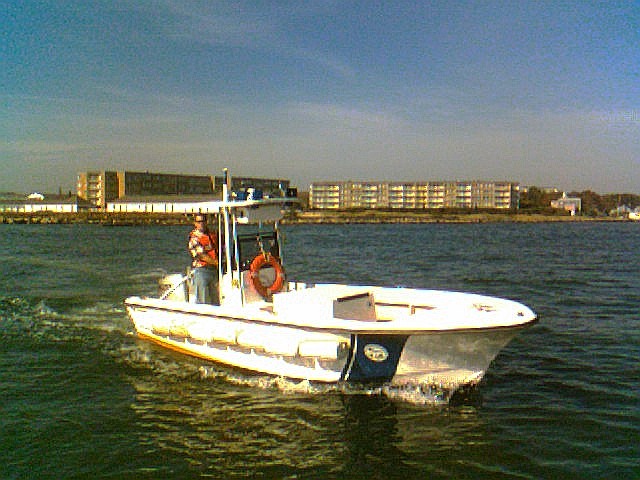 Pumpout vessel MS 34 HH (Patrol 78) is our second boat dedicated for such use received from sources provided by the Clean Vessel Act.

The Town received its second pumpout boat through the Clean Vessel Act. The program is funded by the purchase of fishing equipment and motorboat fuels. The sewage boats are an important part of making Harwich eligible as a Federal No-Discharge Area. The pump out boat will come to individual boats by appointment. Appointments are made by calling the Harwich Harbormaster on channel VHF 68 or calling his office at 430-7532. Pump out boat services are normally available Tuesday through Sunday, 9 A.M. to 3 P.M. Please see the Appendix for the rules and regulations for the operation of pump out facilities.

The Harwich pump out boats(2) are 22' Alcar Marine Environmental boats. They are hard chine, fiberglass, open outboard type vessels which have been redesigned by Bay Sails Marine of Wellfleet, MA. This boat accommodates a three hundred gallon onboard holding tank below decks. The deep-vee design provides for the safe storage of sewage in a vented tank system. A one hundred horsepower Johnson outboard was chosen to drive the vessel, as this motor can be serviced locally at Allen Harbor Marine Service, a registered OMC dealer. Other features of the boat include an Edson Diaphragm pump driven by a 3 horsepower Briggs & Stratton 4-cycle engine. This unit is pull start and has never failed to start in its first two seasons of service. Expectations are very high that this pump will, as reported by users elsewhere, offer little chance of failure. The boats are equipped with standard safety equipment, a compass, VHF radio, t-top, tow post with toe line & reel, blue flashing law enforcement light and a spotlight. A portable global positioning system (GPS) unit is brought on board as part of the emergency kit. When the boats are out of the water, they are towed on a extra duty Load Rite tandem wheel trailers with centrifugal brakes. The trailers were planned to have the ability to carry each boat with a full load of sewage estimated at an additional 3000 pounds. The pump out boats can be reached on marine VHF channel 68 (VHF ship/aircraft radio license WBM 6169) or by calling the dedicated voice mail system (508) 430-7532 x 4 and leaving a message which will automatically page to employee on duty for this purpose.
Engine 2008 Cummins QSB5.9 Turbo
Serial number (on valve cover)
?
Serial number (on expansion tank)
?
Transmission serial number
1RM301P2
Transmission type number
9220951
Water Pump Jabsco
3.5"
Pump Impeller Jabsco
00836-0001
Pump Impeller Johnson
1029-JFG5
Fuel Filter
FF5488
oil Filter
LF3972
Volvo Air Filters (2)
15-40 Non Detergent HD Motor Oil
Pumpout Engine
Briggs&Stratton 3.5HP #933320040